Winner:  Lori Brouse!  Congratulations!
It's finally here!  The Shower Yourself with Love Giveaway Hop hosted by The Adventures of J-Man and MillerBug (yup, that's me!) and Jamie's Precious Peas!  15 Amazing blog have come together for this event to give you the chance to win Valentine's Day Presents – for yourself or someone you love!  Because why buy it when you can win it – right?
Soooo, without further ado, my giveaway is for….
Wait for it…
A Diamond Heart Necklace from Kranich's!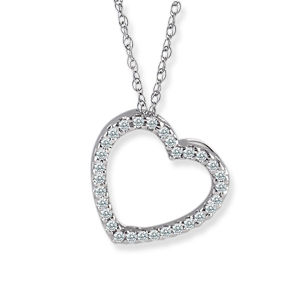 Now who doesn't want diamonds for Valentine's Day?  I personally think that the amazing rock known as the diamond rocks!  This beautiful necklace features a .15 carat diamond heart pendant mounted in 14k gold and on an 18 inch chain!  Whether this is a little present for yourself or for someone you love, it's sure to make the wearer shine!
Kranich's is about more that just necklaces though!  With an amazing assortment of all things sparkly, they give bling a whole new meaning!  Just check out their amazing Emerald Cut Diamond Engagement Rings!  If you're thinking of popping the question this Valentine's Day, you can't go wrong with one of these!  Or if you need to give him a little push in the right direction ladies, just bookmark Kranich's homepage on his computer!
With stunning pieces from amazing designers like Simon G, you really can't go wrong with a diamond from Krainch's – for Valentine's Day or any other day of the year!  So be sure to check out their whole collection!
And now it's time to get your entries in to make your Valentine's Day sweet!  First, enter to win this amazing necklace valued at $199 using the Rafflecopter Entry form below!  Then go enter the amazing giveaways being hosted by my fellow bloggers!  Finally enter to win a bonus prize of a $50 Amazon.com Gift Card HERE – you'll get extra entries for each giveaway you enter making it super easy for you to increase your chances of winning!
So what are you waiting for?  Let's get started!
Now that you're entered for a chance at some amazing sparkle, hop around to the other participating blogs and enter to win their great prizes!