Welcome to the
$50 Amazon Gift Card Flash Giveaway
January 23-25, 2013
With two boys who are super curious and very tech-savvy, I'm constantly challenged to find new apps for my iPad and iPhone that will keep the adventure going for them when we are on the go or even at home.  I want apps that are family friendly (of course), educational and above all FUN!  So when I heard about the new Gombby app, I was more than a little curious.  I knew it was free which was awesome but would it keep my boys brains going?
The Gombby free app for iPad and iPhone allows you to access some of the best episodes from Gombby's Green Island TV show.
Green Island is home to Gombby, Strawy, Celeste and all their friends! Wheat fields, woods and wonderful caves to explore are the backdrop to their adventures and discoveries all over the island. Gombby, the little baker boy, loves to take the lead in those adventures! The answers to life's big questions, the mysterious Bugaboo or the Green Island funfair – are just some of the stories that Gombby and his friends live through as they learn about the world around them. Re and Mi – two fabulously colored birds – regularly accompany them on their adventures and Gadget Man never ceases to be their favorite inventor, inventing curiosities such as gravity simulators, paint-making machines or Ferris wheels! Green Island, a world where Gombby and his friends learn about the importance of friendship and sharing. A pro-social series – but not just that! Gombby's Green Island builds children's general knowledge and gives them confidence to make healthy lifestyle choices too!
Now, here is what I really love about this app. I can download three full episodes of Gombby to my iPad or iPhone and watch them even when I'm not connected to the internet.  This is HUGE as streaming live to my iPad eats up tons of my data plan but with being able to download them and save them to the app, I can watch them without even accessing my data plan any time.  The kids love that and so do I!
So if you're looking for a great, educational way to entertain your kiddos that is mama approved, check out the FREE Gombby app for iPhone and iPad.
If you want to know more about Gombby, online videos are a great way to become acquainted.  You can also check them out on their social media sites:
Thank you, Big Storm Studio for sponsoring this $50 Amazon.com Gift Card Giveaway!
Today's Prize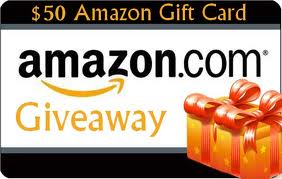 We are offering this amazing gift card to one winner!
This Giveaway Has Been Arranged by Mommy's Memorandum
For Rules and Disclosures of this giveaway, please see Rafflecopter form: Terms And Conditions.
Open World Wide.
I received no compensation for this publication. My opinions are my own and may differ from those of your own. The Adventures of J-Man and MillerBug is not responsible for sponsor prize shipment.