Being a mama of two sports loving kiddos means that I know a thing or two about strains, sprains and injuries.  No matter what season of the year it is, chances are you'll find my teen and I at a tournament with him and his friends pushing themselves a little harder and going just a little stronger in the quest to be the best. While you might think that summer is a chance to take a break and sit back, in reality it's a time for my athlete to train harder in new and unique ways.  With the longer days and the beautiful weather, sports activities that were once confined to the indoors move outside and sweat paired with skills take dedicated athletes to a new level.  All summer, my son has pushed harder, shot longer, lifted more and found ways to improve his game.  As his mama, not only have I been his biggest cheerleader in his quest to conquer the summer sports season but I've also been trainer and coach on more than one occasion.  While I'm rarely ever the only mom around, I do pride myself on being the most prepared and when my son is on the court or in training, I make sure I'm always stocked up on my first aid kit ideas for the sports mom!
As a sports mom, daily preparation looks a little different for me.  When my son gets up in the morning, I have to think about what he eats.  I have to pay attention to what he wears. I have to ensure that he's properly hydrated for the summer weather.  But equally important to any of these worries is the need to always have a first aid kit handy for when his love of sports leads to minor aches and pains or soreness.  While I deal with this all year long, during the summer, when we can use hills as resistance and trees as training tools, it becomes extra important to have the right items on hand.  Knowing that he rarely trains alone, I've put together some fabulous first aid kit ideas for the sports mom that allow me to not only ensure I'm prepared for whatever discomfort summer sports cause my son but I'm also more than ready to share with my fellow moms to help ensure that all our teen athletes are being able to make the most out of the summer sports season. Before I show you how to assemble your own first aid kit, be sure to hover over the picture below and click through to Target.com to purchase the items for yourself!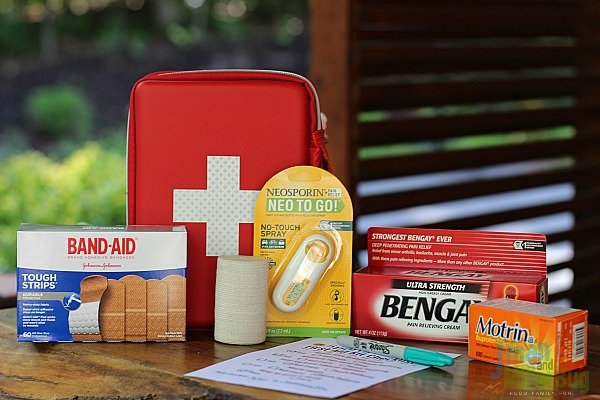 So, how do I ensure I'm prepared for whatever each day as the mom of an athlete brings?  For me, it starts with an online shopping trip at Target.com! Not only am I able to stock up on training essentials for my first aid kit, like BENGAY®Ultra Strength Cream, but right now when I stock up on at least three participating Johnson & Johnson items at Target, I'm able to get a FREE first aid kit that's perfect for creating my on-the-go, sharable first aid kit for sports moms! Even better, I can stock and re-stock my first aid kit on the go with the convenience and quick shipping that Target offers.
In just a few short days, everything I needed for my first aid kit was delivered to my door…including a durable and cute bag to carry it all in!  Knowing that this first aid kit was going to get tons of use this summer not only by me but by my fellow sports moms as well, I wanted to find a quick and easy way to know when it was time to re-order the items inside.  After thinking it through, I quickly sat down and created a Sports Mom First Aid Kit Checklist that allowed me or anyone who was using the first aid kit to quickly and easily identify what items needed to be stocked up and what items there were plenty of.
After printing out my checklist, all that I needed to do was assemble my first aid kit and start using it to treat everyday aches and pains that come with training.  To start, I added my checklist and a pen to one side of my first aid kit so that the checklist was easily accessible and I could quickly identify what items needed to be reordered and when.
Once my checklist was in place, I stocked up my kit with BENGAY®Ultra Strength Cream and a variety of everyday products that I knew would be helpful with my athlete.
While I knew that summer sports season necessitated a variety of items, the one I was most excited about having on hand was BENGAY®Ultra Strength Cream!  With the ability to temporarily relieve the minor aches and pains of muscles and sore joints associated with things like bachaches, arthritis, strains, bruises and sprains, I knew it was a must have in my first aid kit.  As a sports mom, the injury I see more than any other are strains, sprains and sore muscles.  In fact, it's rare to get through a single game without someone hurting something!  I knew that with my BENGAY®Ultra Strength Cream, every member of my son's team would benefit from the ability of it to sooth sore spots and offer deep, penetrating, powerful pain relieve when they needed it (Note: Use only as directed; intended for adults and children 12 years and older).
As the one item in my first aid kit that gets reached for more than any other, the soothing power of BENGAY®Ultra Strength Cream is any sports mom's best friend and trusted sidekick to ensure that minor strains, sprains, aches and pains don't slow your kids down.
With my first aid kit packed and my BENGAY®Ultra Strength Cream readily at hand, we've been taking on outdoor summer sports in a fearless fashion because I know that no matter what each game brings, I've got everything I need to help my teen push further, go faster and be better!
Plus, when paired with my Sports Mom First Aid Kit Checklist, I've found the perfect way to make sure that no matter what summer sports we're participating in, we've always got everything we need on hand to make the most of every shot!
Now, it's your turn!  Head to Target or Target.com today to stock up on all the essentials for your own first aid kit and be sure to look for the exclusive first aid kits that are free when you purchase any 3 participating Johnson & Johnson items!  Created in partnership with Joy Cho, these cute kids are the perfect way to carry all your first aid needs! But this offer won't last forever so be sure to act today!
Now tell me, what Target essentials do you include in your first aid kit?
©Johnson & Johnson Consumer Inc. 2017 The third party trademarks used herein are trademarks of their respective owners.