Here in the South, there are few things we enjoy more than inviting family and friends over, firing up the grill and spending balmy summer evenings sharing all the latest news.  As the kids run through the sprinkler in the yard and fireflies dance before our eyes, memories are made.  In fact, for my group of family and friends, you can pretty much bet on finding us outdoors on summer evenings with the the aroma of grilled hot dogs filling the air and the twinkle lights turned on (cause they're totally not just for Christmas ya'll).  Growing up in North Carolina, this is just the way summer gatherings have always happened and while I'll admit that the company and atmosphere is worth getting excited over, for me there's nothing better than serving up Southern Style Chili Slaw Dogs to all my guests!
Now, I'll be the first to admit that this amazing recipe has big Southern flavors in every bite and let me warn you, once you try these Southern Style Chili Slaw Dogs, you'll agree that it's the ONLY dish that's a must at every summer gathering! Since I think these drool-worthy dogs will be on everyone's summer cookout must-have list, be sure to hover over the image below to click though to Walmart.com and buy your Hebrew National® Kosher Hot Dogs, Hunt's® Ketchup and Gulden's® Mustard!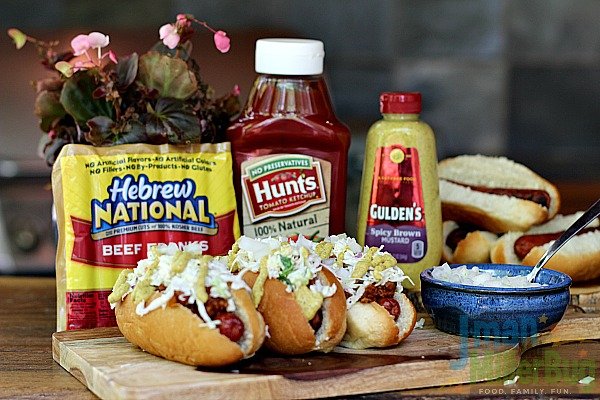 Now that the ordering of the stars of this delicious dish is done, it's time to get down to business and create this cookout masterpiece that brings everyone running!
What You Will Need:
1-2 Packages of Hebrew National Hot Dogs
1 Pound of Kosher Ground Beef
1 Cup of Sweet Onions (Diced)
1 (12) Ounce Can of Hunt's Tomato Sauce
1/2 Cup of Hunt's Ketchup
1 and 1/2 Tablespoons of Chili Seasoning
1/4 Teaspoon of Kosher Salt
1/2 Teaspoon of Ground Pepper
1/2 Teaspoon of Sugar
1/2 Teaspoon of Garlic Powder
1 Tablespoon of Worcestershire Sauce
2 Cups of Shredded Cabbage
1/4 Cup Chopped Cilantro
1 Tablespoon of Mayonnaise
2 Tablespoons of Apple Cider Vinegar
1 Tablespoon of Gluden's Mutard
Hot Dog Buns
How to Make It:
Growing up, I always thought making chili and slaw for Southern Style Chili Slaw Dogs was hard but in reality, it's a fairly easy dish to whip up that's totally impressive an screams summer! To start, I added my kosher ground beef and 1/2 of my diced onions to a pan and cooked them until there was no pink left in my meat and my onions were transparent.
Once my meat mixture was cooked, I added in my tomato sauce, Hunt's ketchup, seasonings and Worcestershire Sauce.
After mixing all the ingredients together, I turned my burner down to low and allowed my chili to simmer for about twenty minutes, until it had thickened up to the consistency I wanted.  With my chili cooking to perfection and not needing any more attention besides an occasional stir, I moved on to my slaw.  Now, here in the South, we like our slaw tangy and for me, getting it just right only requires only requires a few simple ingredients.  To start, I added my cabbage and 1/4 cup of my diced onions to a bowl.  Next, I added in my cilantro, mayonnaise, vinegar and Gluden's Mustard.
Now, I know that adding mustard to slaw is not exactly traditional but the spiciness of the mustard is the perfect compliment to the sweetness of the chili in creating these Southern Style Chili Slaw Dogs!  After mixing all my ingredients together, my slaw was complete and all that was left to do was grill up my Hebrew National Hot Dogs and put my dish together!
I quickly had the hubs fire up the grill and toss the Hebrew National Hot Dogs on, cooking them until they had beautiful grill marks on them and were ready to eat.
As soon as I took the Hebrew National Hot Dogs off the grill, I was ready to start assembling my Southern Style Chili Slaw Dogs!  To start, I quickly sliced open my hot dog buns and placed my cooked hot dogs inside.
With the quality taste of kosher Hebrew National Hot Dogs, I had the perfect base on which to build my totally unforgettable Southern Style Chili Slaw Dogs!  All I had to do was start layering on toppings in a generous manner.  I started with my delicious chili that's just a touch sweet and totally delicious.
After adding a generous amount of chili, I topped it with my freshly prepared slaw that has just the right amount of tanginess thanks to the vinegar and Gluden's Mustard.
Finally, I topped off my Southern Style Chili Slaw dogs with a generous drizzle of Gluden's mustard and the remainder of my diced onions for a summer dish that looks awesome and tastes even better!
As I called all my guests to grab my messily perfect summer dish, I was proud of the fact that I had carried on a summer tradition that started with my mom and created uh-mazing Southern Style Chili Slaw Dogs that literally left my guest licking their fingers!
In fact, for me, this dish is THE flavor of summer and a must have at cookouts, picnics and gatherings.  I know I'll continue to whip it up any chance I get and serve it up to make sure that the flavors of summer thrill and delight each and every person who I feed this summer!
Now it's your turn to create this simply delightful summer dish that serves up the flavors of summer in an unforgettable way!  Head to your local Walmart (or use the shopable image at the top of this post) to stock up on Hebrew National Hot Dogs, Hunt's Ketchup and Gluden's Mustard.
Then use the combination to serve up these Southern Style Chili Slaw dogs at your next family gathering! I can guarantee you they will leave everyone coming back for seconds!
Need more summer cookout inspiration? Be sure to check out all the delicious recipes that will help you serve up summer!  Then tell me, what amazing dishes will you be serving at your summer gatherings?