While I fully understand that we live in a digital world, when it comes to organization, I'm a paper and pencil type of girl. With school season quickly approaching, I'm color coding everything from my calendar to the kid's items to lunchbox notes.  Literally, if it's not organized and colored, in my home it doesn't mean back to school success! I've taught this lesson to my kids as well and as soon as they start gathering their supplies, they begin asking for colored pens to organize their binders and complete their work.  It's just how we do things around here.  Knowing that, the FIRST supply on my back to school list was the number one selling gel ink pen in America which just happens to be perfect for this overachieving mom…Pilot G2! Armed with these gel pens that make organization easy, I've been able to manage my calendar, help the kids get their binders set up and ready for success and in all the free time that being an organized mom allows me, I even whipped up my very own DIY School Supply Caddy that's perfect for keeping supplies organized at home or even gifting to teachers for classroom organization!
This cute back-to-school craft is a perfect way to make sure there are always plenty of Pilot G2 pens that come in four point sizes and 20 vibrant colors on hand when it's time for mom to organize or the kids to do homework.  Before I show you how to make it and offer a few other organization tips, be sure to hover over the image below to click through to Walmart.com and purchase your own Pilot G2 assortment pack!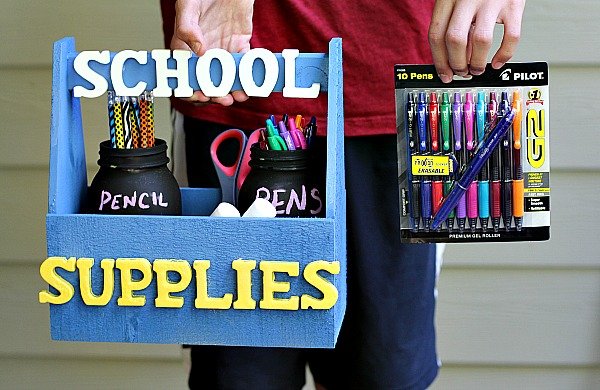 Even better…don't forget that you can save $1.00 on any 2-pack (or larger) of FriXion Pens right now!
Now that your shopping is done, it's time to get to organizing you overachieving mama you! And let me tell you, with my DIY School Supply Caddy and a few simple tips, back-to-school organization is a breeze!  So let's start with this easy to make Caddy that's perfect for storing all those Pilot G2 gel pens that you NEED to have on hand!
What You Will Need:
A Wooden Box
Sandpaper
2 Clear, Clean Glass Jars
Wooden Letters (Optional)
Spray Paint in Your Favorite Colors
Black Chalkboard Paint
Hot Glue & Hot Glue Gun
Clear Stones
How to Make It:
Using just a few simple items and a little creativity, this easy DIY School Supply Caddy doesn't take long to make and is perfect for organizing all those supplies that you need at home or in your classroom.  To start, I sanded down my wooden box to ensure that it had a smooth texture. Now, it's important to note that a few imperfections are fine but you do want a somewhat smooth surface to paint! Once my box was sanded smooth, I simply used one of my colors of spray paint to spray the entire box.
After repeating this process to get two good coats of paint on my DIY School Supply Caddy, I moved on to my jars, which would be the holders for my Pilot G2 Gel pens and a variety of other school supplies. I decided it would be fun to use chalkboard paint for these not only to stick with the school theme but also so that they could be labeled with what supplies are inside (organization is key, I tell ya!).  After quickly spraying both of my clean jars with chalkboard paint, I set them aside to dry.
Finally (and this step is totally optional), I painted wooden letters that spelled out "School Supplies" and allowed them to dry so that I could attach them to my DIY School Supply Caddy later.
With everything drying so that it could be assembled, I set to work organizing my back to school calendar! With the vibrant colors, smooth writing gel ink and comfortable grip of G2 pens, it was so easy to create a custom look that keeps my calendar completely organized!
With one color for baseball practice, another for basketball practice and still another for important back to school dates, these pens were perfect for color-coding my calendar in the way that only G2 gel pens can!
*Tip: Use different colors of Pilot G2 Gel pens for different activities so that you can easily identify what is happening each day!*
Once my calendar was completely organized, I checked my DIY School Supply Caddy to ensure everything was dry and then went to work assembling it.  To start, I used a hot glue gun to secure my painted letters to my wooden box.  I glued "SCHOOL" to the handle and "SUPPLIES" to the body of the box.
Once that was in place, I added my clear stones to the bottom of each of my painted glass jars to allow my supplies to sit up far enough to be seen.
After labeling my jars with chalk, I simply set them inside the box and then added my Pilot G2 Gel pens, pencils, markers, glue and scissors.
Within minutes, my basic school supplies were organized in an efficient manner so that the kids and I can quickly and easily find everything we need to keep our school year running smoothly!  I placed our DIY School Supply Caddy on the counter and sat back to look with a contented sigh, knowing that when it comes to back-to-school organization, this mama has got it mastered!
From my color coded calendar to my school supplies to my life in general, I feel confident going into this school year knowing that no matter how crazy things get, with the help of my Pilot G2 Gel pens, I can tackle every day in the most organized way!
Now it's your turn! Head to Walmart today to pick up your Walmart Exclusive G2 Premium or G2 Metallic pens! While you're there, be sure to check out the entire collection of G2 pens that come in four pint sizes and 20 vibrant color options! Available in the school supply section, G2 pens are the only gel ink pens that offer such a wide variety of options that have been proven to write longer than all other gel brands!
Then get your back-to-school season organized in a bright and colorful fashion that allows you to do more, go more and be more!  But be sure you start with the only pens that work as hard as you do! Ready to purchase your G2 Pens today? Grab this great coupon to save $1.00 on any 2-pack (or larger) of FriXion Pens!
To learn more about G2 Pens, be sure to follow Pilot on Facebook, Twitter, Instagram and Pinterest!
Now tell me, how will you use Pilot G2 Gel pens to organize your school year?